It's been quiet here for a bit. However, we've got quite a few posts lined up for the rest of the summer.
Starting Monday,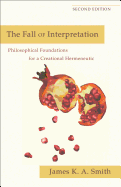 we'll host in 3 substantive interactions with James K.A. Smith's The Fall of Interpretation, 2nd ed. We've invited three reviewers to interact with Jamie's latest edition of his very first book and created space for Jamie to jump onto the blog to offer his own responses. We're excited to have our figurehead participate in the conversation again.
James K.A. Smith is professor of philosophy at Calvin College where he also teaches in the Department of Congregational & Ministry Studies and in the doctoral program at Calvin Theological Seminary.  A specialist in phenomenology and French thought, Jamie writes for wide audiences and is interested in the spaces between theory and practice, the academy and the church, which is one of the reasons he edits the Church and Postmodern Culture book series.
He is an award-winning author whose books include Who's Afraid of Postmodernism? Taking Derrida, Lyotard, and Foucault to Church and Desiring the Kingdom: Worship, Worldview, and Cultural Formation.  He has just completed Imagining the Kingdom: How Worship Works (which will be published in January 2013) and is at work on two more: a small, critical exposition of Charles Taylor's A Secular Age and Who's Afraid of Relativism? Taking Wittgenstein, Rorty, and Brandom to Church.
Our contributors to the Symposium include:
Mark Bowald, Redeemer University College, Ontario, Canada
Neal DeRoo, Dordt College, Iowa
Crystal Downing, Messiah College, Pennsylvania
The Symposium on Jamie's book will run for three weeks, raising a topic that isn't often discussed on this blog: hermeneutics.
Following the Symposium, our regular contributors are lined up with new offerings and musings that will carry us into the Fall. So look for the first post on Monday and expect things to get busy around here again.
One final word: here's a conference announcement for anyone who might be interested. Baylor University's Institute for Faith and Learning is hosting their annual Symposium on Faith and Culture entitled Technology and Human Flourishing, October 25-27, 2012. There's still time to submit proposals (deadline: August 15). Follow the link for proposal submissions on the page.
---
About the Author
Chad Lakies

---
---