I am appreciative of Jason's generous and generative review of my book, The Church Is Flat. While Jason and I have fallen out of touch in recent years, we spent much time together in the early days of the emerging church movement (ECM). By reading Jason's work in Church in the Present Tense, I suspect that he and I have moved in different directions ecclesiologically.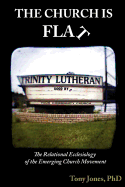 Before delving into his review proper, allow me a brief moment of psychoanalysis of each of us. Jason comes from a low church tradition—the Vineyard, among the "lowest" of low church—and he is migrating toward more established, conventional ecclesial structures and liturgies. I, on the other hand, was reared in a church with a high liturgy, traditional hymns, and Reformed vestments; I see most of those accouterments and the structures that birthed them as archaic.
Maybe, just maybe, Jason and I are each overreacting to our pasts.
Now, onto his review. Jason's recap of my project in The Church Is Flat is largely accurate. In fact, he understands my aims better than any reviewer I've yet read. As a practical theologian, I sought to understand the burgeoning ecclesiology of the ECM by looking at the practices of the movement—this is a common move for a practical theologian. While none of the practices I found was unique to the ECM, the corpus of practices and the way that they'd been renegotiated in these congregations were innovative, and possibly even unique. And, indeed, I concluded, as Jason rightly notes, that "it is 'relationally' that is the logic that operationalises these clustering of practices."
Practical theology is distinct from systematic theology in that it is grounded theology—grounded in the lives of real human beings. As a practical theologian, I attempt to get at the lives of those human beings through social scientific research, both my own and research borrowed from social scientists. I turned to New Social Movement theory for two reasons: 1) to establish that, while the ECM may not be large in scale, it is worthy of study for what it says about American Protestantism; and 2) for the ways that New Social Movement theory could help interpret the early days of the ECM.
Thus, as Jason notes, I make no apologies for the fact that the ECM is primarily a phenomenon among middle-class whites. So is Facebook, but that doesn't mute Facebook's impact on our culture. However, neither do I apologize for the America-centrism of my book, an aspect of which Jason seems critical. Any study necessarily has to be limited in scope. If I would have attempted to speak authoritatively about the ECM in other parts of the world, I would have quickly been criticized by Jason's compatriots for overreaching.
Further, I think that Jason overstates my reliance on New Social Movement theory. Beyond the two aspects noted above, it does not play a significant role in my book. It allows me to interpret the ECM through a social scientific lens, but it does not play a normative role in my proposed ecclesiology.
Which leads me to Jason's primary criticism. Jason accuses me of being a correlationist—that is, that I allow contemporary social patterns to dictate my ecclesiology. An extended appendix in the book makes clear that I am not a correlationist; my chosen theological pattern in this regard is the "transversal rationality" of J. Wentzel Van Huyssteen and Wolfgang Welch. Nevertheless, this may be an even worse sin against Jason's way of thinking. (It is no surprise that Jason invokes John Milbank in his criticism of me; I'd be hard pressed to name a contemporary theologian with whom I disagree more than Milbank.)
If I may put a finer point on it, the question is this: Is there a normative (biblical?) ecclesiology that is timeless, to which every congregation must aspire? Or is ecclesiology necessarily shaped by the culture that inevitably envelops every congregation?
I unequivocally say no to the former and yes the latter.
I am most interested, as I wrote above, in theologies that are grounded. My criticism of Jürgen Moltmann is that he is too idealistic, too naïve—and he's exponentially more grounded than Milbank, Hauerwas, and the other ecclesiologists on the scene today. To develop an ideal ecclesiology—an image of the perfect, eschatological church—doesn't do anybody any good because it's pure hypothesis. It merely establishes a aspiration of which every congregation in the real world will fall short.
Every congregation is dripping with culture. It comes into the sanctuary in the clothes that congregants wear, in the music they were listening to in their cars on the way to church, and on their phones as they check Facebook during the introit. A realistic ecclesiology will acknowledge culture; it will recognize that parishioners talk about their experience of the numinous using cultural idioms, not second-order theological discourse.
To drill down further into these issues would likely reveal other differences between Jason and me. Panentheism and theosis, for instance, are two theological doctrines that guide my ecclesiology.
Suffice it to say that I, too, hope that Jason avoids a "complete re-Catholisation." For that ecclesial system more than any other has lost touch its contemporary setting, as the headlines remind us daily.
——–
Tony Jones is theologian-in-residence at Solomon's Porch in Minneapolis and an adjunct professor at Fuller Theological Seminary and at Andover Newton Theological School. Tony serves as a senior acquisitions editor at sparkhouse. Tony is the author of many books on Christian ministry and spirituality and is a sought after speaker and consultant in the areas of emerging church, postmodernism, and Christian spirituality. You can find out more about Tony and how to contact him here.

---
About the Author
Tony Jones

---
---