This week's review of Bruce Ellis Benson's Liturgy as a Way of Life comes from Linda Borecki.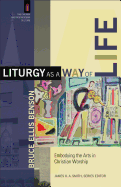 ———–
"Thus, the very being of life is improvisatory – by which I mean that it is a mixture of both structure and contingency, of regularity and unpredictability, of constraint and possibility. Further, if God is indeed still at work in the world, then God is likewise part of that improvisatory movement. Living in such a reality means that we take part in that improvisatory movement in all that we do. Since we are creatures embedded in multiple and ever-changing historical and cultural milieus, our identities and very being arise from our relation to others and to the world we inhabit." – Bruce Ellis Benson, Liturgy as a Way of Life, p. 76.
The above quote, almost exactly at the center of Bruce Benson's Liturgy as a Way of Life, is one that is in turn at the center of his advocacy for liturgy and the arts as a way of life. So much of this book echoes and complements fellow Wheaton author Harold Best's Unceasing Worship: Biblical Perspectives on Worship and the Arts (2003, InterVarsity Press). Both Benson and Best offer insights into humans created imago dei – responding, creating, living as outpourers toward God and others – living works of art. Both are thought-provoking and encourage a holistic understanding of worship. In response to the particular observations in Liturgy as a Way of Life and the above quote emphasizing being drawn into God's improvising as active participants, I would like to ask Dr. Benson some questions:
1. Improvisation. True improvisation, creating that which is genuinely new rather than merely re-ordering previous patterns and forms – there are implications concerning the age-old free will vs. predestination conundrum. This is the idea that God improvises, allows a world of true becoming and interacts with Creation as history unfolds. This is quite provocative in some circles – that there is divine constraint, that humans play a part in creating what will be, that the future is not yet there to be known. Do you have a reply for those concerned about divine improvisation – an omniscient and omnipotent God who does not know the future?
2. Incarnational. I come from a family of faith with sacramental, Incarnational sensibilities. At least in doctrine, if not always in practice, there is a strong belief that God loves Creation, the material world, and in fact comes to us in the material stuff of the world like bread and wine and water. Therefore, there is little need to make a case for the inclusion of art in worship, for defending the use of art and music and symbols, since there is not a struggle with a neo-Platonic spirit-vs-material world. Have you noticed whether evangelicals who are moving to embrace tangible, material art forms in worship are also coming to a more Incarnational understanding of the Lord's Supper and baptism as well? Do you sense any convergence of these two Incarnational sensibilities? What are the implications for the future of North American Christian worship?
3. Resolution. My experience in worship with people steeped in the Rational Age is that they have a high need for resolve in worship – a need for answers to questions, for certainties and clear direction. My experience with Postmoderns is that there is a greater ability for unresolve, for leaving questions hanging, not rushing in with quick answers. In fact, my 20-something daughter attends Good Friday worship precisely because it is the one service of the Church Year that ends in a state of unresolve ("It's the most like real life").
Could you speak to the implications for art in worship? – music that does not resolve to the tonic, visual art that evokes negative emotions, symbols or abstract designs that are ambiguous? How do you navigate art's resolve/unresolve in a specific worship service? What are your own parameters, your own non-negotiables for certitude in worship?
4. Pretty. I confess I am uncomfortable with the section Making the World "Pretty." I'm reluctant to use the word pretty pejoratively. I wonder if 'like' and 'don't like' or 'want' and 'don't want' might be approached differently by asking "How does this [music/picture/symbol] articulate God's cries to God's people, and people's cries to God?" Is there space in worship, in time and in spirit, for the whole range of human experience – joy, suffering, anger, fear, bewilderment, anxiety, lament, remorse, despair, humiliation, guilt, exultation, gratitude, wonder? I think people "don't want" that which they don't understand or cannot relate to or find incongruent with the God they think they know. But I find that explaining and linking the music/art/symbol to God's real character and real human cries does indeed, as you note, open us up to (a richer, truer) God.
That said, many people do seek "sanctuary" in Sunday morning worship. In a turbulent and painful world, there is a great need for solace, for comfort, and yes, for that which is soothingly "pretty." The world is both pretty and ugly, birds singing sweetly in the trees (How Great Thou Art) and raging floods (My Hope is Built on Nothing Less than Jesus' Blood and Righteousness).
I wonder if a better term for what you are describing (giving people 'what they want') is sentimentality in worship – misrepresenting the world in order to indulge our feelings. Regarding any dishonest distortion of reality I wholeheartedly agree with you.
Creating art, planning worship which manipulates the emotions of the gathered community, whether positively or negatively – isn't this a temptation for all art-makers whose need for affirmation is closely bound to the art they create?
That returns us to the need for space to acknowledge all that is real in our lives – that which is pleasant and comforting and that which is unsettling and painful – aspects of one's real, actual life lived out before God. To what extent do we allow the painful, the ugly, in worship, both in time and in spirit?
5. Beauty. I appreciate both the close identification of the "call" to "beauty" and the reluctance to define beauty and set down rules for the beautiful. I think it is worthwhile, however, to strive for a deep understanding of beauty, because of its close connection to truth, goodness, and God's transforming call.
As we learn to speak the language of a discipline, we grow in understanding the beautiful – whether it is poetry or music or mathematics. As physicist and theologian John Polkinghorne notes, beauty has to do with elegance and economy. Not sprawling and convoluted, but concise and deeply satisfying. Able to be long contemplated. Able to bear the weight of mystery. Simple, but deep: e=mc2; the symbol of the cross; the liturgical acclamation Christ has died; Christ is risen; Christ will come again! – full of implications, surprises, possibilities, wonder.
Linda Borecki received a doctoral degree in theology at the Robert E. Webber Institute for Worship Studies. She teaches part-time at Concordia University, Portland, and is a Story-teller and facilitator of liturgy and music in academic, congregational and retreat settings in the States and abroad.
---
About the Author
Linda Borecki

---
---